Archive for the 'Uncategorized' Category
Is peace too controversial for the classroom?
Isabel Cartwright explores why teachers shouldn't shy away from 'controversial' issues in the classroom.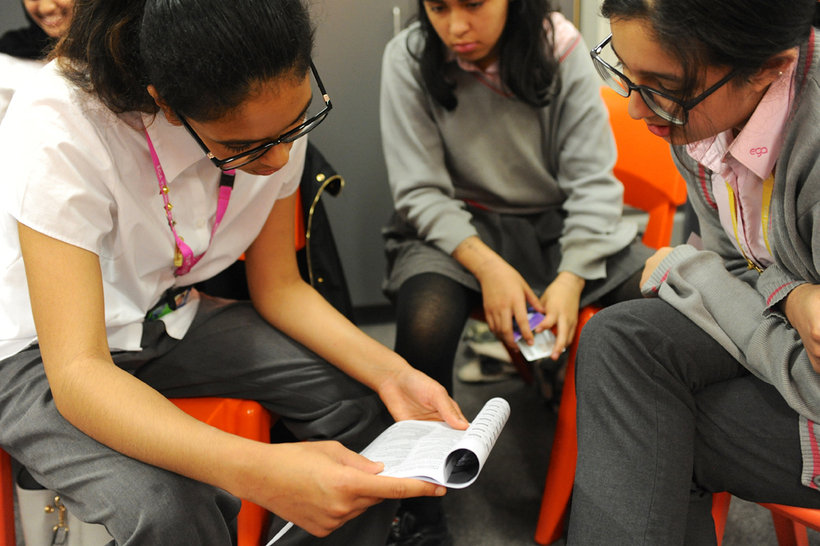 "If someone came to you with a video of their family shot by weapons you had sold or traded, would you see the defence exhibition in the same light?"
"We have a 100% legitimate show organised with the MoD."*
"That has nothing to do with my question. Would you get upset?"
"Of course I would."
"Why do you still do it then?"
This was a 15-year-old interviewing the chief spokesperson for Defence & Security Equipment International (DSEI) – the world's largest arms fair. This was 2003, but DSEI has remained controversial. Working at her school at the time, we prided ourselves on active citizenship, but no-one was explaining to the children why tanks were rolling in and out of the Excel Centre, clearly visible from their classroom windows. I brought in a filmmaker with experience of participatory filmmaking and we worked with a group of students for six months exploring the arms fair. We'd been lucky to get that interview. The spokesperson had underestimated this group of young people.
In the process of researching and making the film, the students became more politically aware. They were shocked to learn that people profit from war, and that Britain arms both sides of violent conflicts. Getting to know local older people and learning that this was the most heavily bombed area in Britain during WWII – a place now selling weapons – angered them. They began drawing a link between war, the arms trade and refugees. They were becoming what civil rights campaigner Bayard Rustin termed "angelic troublemakers".
Grappling with moral questions
But was it my job as an educator to encourage this? Some teachers didn't think so. They saw it as politicising young minds, as pedalling propaganda. The same dilemmas surface in my work today. We produce teaching resources on topics such as armed drones and Israel/Palestine. In a recent teacher-training session one of the trainee teachers asked whether we should be bringing such political issues into the classroom. Was it too much for both teachers and students to grapple with?
I was glad these concerns had been voiced. I do believe it's part of the role of an educator to teach 'controversial' issues, but what constitutes controversial, why these issues should be tackled, and how, needs to be explored and owned by the teacher themselves.
Active citizenship
What constitutes controversial? We could be talking about Donald Trump, nuclear weapons or human rights – anything that generates great public interest, strong emotions and divides society.
For me, part of the why is to support young people to become active citizens, locally and globally. Children have the right to express views in all matters affecting them, and for these views to be heard.
As adults, we need to respect children's right to be heard and support them to develop their own moral compass. Many controversial issues already touch their lives. The majority of 10/11-year-olds I've worked with are aware of drones. They've heard about violent conflict and war, and in some classrooms they've experienced it directly. By creating a safe space for exploration, children can test out what they've heard, learn to separate myth from reality, and build skills of analysis and judgement.
But how do we do this effectively? In our peace education work we emphasise three components: critical thinking, empathy development and a clear value base. Ideally, the group or class are used to meeting regularly to discuss issues and have learnt to do so respectfully. Tackling controversial issues should take place in a context of positive relationships and through activities that build trust and encourage understanding of different perspectives.
The role of teachers
Oxfam presents a spectrum (PDF) of where teachers can stand on an issue, and different approaches are useful at different times. The assumption that a teacher can and must always be impartial is problematic for me, as children can usually see through this. Authenticity is key to meaningful relationships. We shouldn't be afraid of bringing our values to our work; we do anyway, so we need to be conscious of it – it's part of what makes us educators.
Exploring different views
The curriculums in England, Scotland and Wales provide ample justification for exploring controversial issues, and there's also a requirement to provide a "balanced presentation of opposing views". This legitimises critical exploration but only applies to political issues, and many controversial (and arguably political) issues are not considered as such. A school can host as many military talks and presentations as it likes without being obliged to hear opposing views, as the armed forces aren't considered political.
The 'Prevent' (Preventing Violent Extremism) agenda seems to have increased anxiety around tackling controversial issues. We've had schools wary of taking part in peace education projects such as hosting a group of Hibakusha(atomic bomb survivors), citing 'Prevent' as the reason. Yet the legislation actually says, "Schools should be a safe space where students can discuss social and political issues, including extremism and terrorism. Building their resilience will put them in a stronger position to reject extremist views…"
A moral craft
As the world's largest arms fair returns to East London in September 2019 I'd encourage educators to take this opportunity to explore the arms trade with their students. Many of the arms companies, such as BAE Systems, have found ways into schools through STEM (Science, Technology, Engineering and Maths). Yet they rarely address their controversial arms production and sales, instead focusing on talking robots and giant hamster wheels as if this technology exists in a moral vacuum. This denies students the chance to grapple with these moral questions and develop as active citizens. Education is a moral craft; let's embrace that.
I've been through all the posts from six and more years ago, and found some great reviews of ONLY A SIGNAL SHOWN that I had quite forgotten –  thank you Leah especially!  I've deleted all references to the old website, and put in the new one attfieldduttbooks.co.uk, which you can use to order any of my books, but not of course Robin's: you have to go to a proper bookshop for them!
Garnishing a love story and the lives of the characters within it with some personal experiences, Leela Dutt's 'Only a Signal Shown' is an enjoyable, emotional journey.
This journey starts – as we all do – with a burnt marmalade basted chicken, Eleanor and Alec share the results of his limited cooking skills and both find themselves comfortable in each other's company. This was in the early 1970s with Alec being the traditional character and Eleanor more liberal minded and independent.  This is emphasised by Eleanor's response to Alec's proposal of marriage in which she states her desire to travel first to Rome and then see where life takes her.
Over the following years Eleanor's artistic career and Alec's archaeology take them both around the world where occasionally chance meetings take place. When they share parts of their lives with each other Alec talks about his wife, Milly, who is an emotional burden due to her mental health issues, especially when it comes to his children.  Eleanor on the other hand has Patrick as a partner – hardly an emotional anything as he is totally self-absorbed and too busy flitting from one spotlight to another to notice Eleanor as a person.
London, USA, Wales, Rome, Italy, India, South Africa, takes us on a world tour of chance and contrived meetings between the hero and heroine.  Alec's brother, Charlie, and Eleanor's sister Gabriella take on concerned roles as shifting emotional plates continue on a collision course.  Intricate interactions between their families and friends ensure the momentum keeps the book as a 'page turner'. Backdrops to the various events that take place include Howrah Train Station which had seen the suffering endured by refugees as they fled from East Pakistan in 1947, and then to a current (1998) situation in Lesotho where events saw humanity collapse.  And then there is the stability of the ever present 8,586 metre Kanchenjunga mountain, south of Tibet, that upon reflection could be an analogy of Eleanor and Alec's relationship – the majesty and beauty of the mountain only being glimpsed in short periods as clouds part, and yet when out of sight we know it is there.
The journey continues and when we feel it is concluded Leela Dutt takes the opportunity to pluck one last heart string in the final sentence. Love, death, life, fear, the Grand Canyon and penguins – the reader isn't left alone at any point.  I became totally immersed in the story.
'ONLY A SIGNAL SHOWN' BY LEELA DUTT
Wow fantastic where do I start? This is the first ever book by author Leela Dutt that I have read and I can assure you it will not be the last. I was from the first page captivated. Leela's attention to not only the opening line but also the story and the characters within is outstanding! From chapter to chapter I was drawn deeper into the grip of the book. I felt a mixture of emotions – happy, sad, excited. The lives of the characters, their jobs and relationships were entwined. This book is a one size fits all so if you are after romance, adventure, laughter, war, then this book is for you. It is in a league of its own.  I COULD NOT PUT IT DOWN. I was Eleanor's travelling companion; by each turn of the page I wondered where we would be off to next – London, Wales, Finland, India or the USA, to name but a few. This book is both a brilliant and an enjoyable read, a book for everyone, and I feel it was written by a best-in-class author. If not already done so, this book should be made into a film and should also be put forward for Book of the Year Award and TV mini-series.  I look forward to reading more of Leela Dutt's books. I leave you with this opening line from one chapter: 'Hit the floor, lady.' Want to know what happens next? Order a copy of 'Only a Signal Shown' from the publisher http://www.feedaread.com or see further details on http://www.leeladutt.co.uk and you will not be disappointed.
Sheila Stevenson has sent me the reviews published by The Friend last week, by two prisoners at HMP Grendon about ONLY A SIGNAL SHOWN. There's also a piece by Sheila herself, about a couple of my earlier books, MATHISON and KINGFISHER BLUE.  Here first is what Sheila wrote:
REVIEWS – BOOKS BY LEELA DUTT
'Kingfisher Blue' Pub. 1996. ISBN 0 9529782 1 0
'Mathison' Pub. 1996. ISBN 09529782 0 2
'Only a Signal Shown' Pub 2012.
Kingfisher Blue is a book of short stories in which the author explores topics close to Quaker hearts, for example, 'Pebbles in a Jar' tells of protest action against the manufacture of a compound that could cause pollution, or the value of Quaker membership provides the conclusion in 'A Question of Belonging'.  My favourite is 'I Shall Spend my Pension on Brandy' about the wisdom and acceptance that can come later in life; it also rings so true about some of the trials that the elderly have to endure.  The stories all relate to Quaker issues and relationships that are explored with sensitivity and humour.
'Mathison' tells the story of one family throughout the twentieth century involving an Indian home in Calcutta before the First World War, a Jewish dentist in Nuremberg in the 1930s and a Quaker weekend gathering in the mid-1990s. The two parallel story lines starting either end of the century gradually converge. The author uses the premise of an imaginary computer programme that can write a novel as the reason for exploring this family's history that clearly draws on her own.
Both 'Kingfisher Blue' and 'Mathison' are related to Leela Dutt's Quaker life experiences but her most recent novel, 'Only a Signal Shown', is different in that it is simply a love story that weaves around the world as it draws the reader into the story and its conclusion. It grips the reader with its twists and turns between people and places.  Her descriptions are vividly first-hand and she credits her husband for giving her the reason to travel to so many different parts of the world. All Leela's books would make ideal travel or holiday reading although some concentration is needed to keep track of who is who amongst all the characters!
Sheila M. Stevenson,
High Wycombe Meeting, Chiltern Area.
I've had a couple of reviews of my novel ONLY A SIGNAL SHOWN in The Friend this week, 20th June, written by Garry and Matthew, two men currently in HMP Grendon.  Unfortunately I can't copy the page into my blog – can anyone help? I can scan it but can't copy and paste – no idea why not…
You can now buy KINGFISHER BLUE, MATHISON and RUBIK'S CUBE direct from my website attfieldduttbooks.co.uk    My books are no longer available from wonderbookland.com which has been withdrawn.
If you want a paperback copy of ONLY A SIGNAL SHOWN it's best to get it from FeedARead for £7.50 rather than looking on Amazon which says it has two used copies for £262.93 each!!!
Here's the link: http://www.feedaread.com/search/books.aspx?keywords=Leela%20Dutt
or alternatively, there are limited copies available direct from my website http://www.leeladutt.co.uk where there is a BUY NOW button offering the novel for £7.50 plus £1.50 postage – this button will get you to PayPal.